Standard program Umba River.
The Journey starts in Dar-es-Salaam. This is an educational fieldtrip and introduction to the geology of Tanzania. We visit Umba Valley gemstone mines in Tanzania. Where you dig for Sapphires and Garnets during a few days and learn about the particularities of the local geology. A group of miners will assist us, on one of the mining concessions. All the stones you find are yours to keep.
Followed by a roundtrip to Arusha, and Mundarara.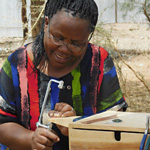 Jewels are made durig 3 days
without welding equipment. With simple tools, but with sophisticated techniques. A jewelry course in teamwork with Maasai ladies in the ruby-zoisite mine of Mundarara Tanzania. Tools and materials are provided on site. The gems are offered by the mine owner. Your creativity is in demand and welcome. This unique collabo-ration explores the unknown. Jewellers, designers, gold-silver smiths, gem cutters, artists, explorers. . . . etc. are cordially welcome. The jewelry you create is yours to keep.
You will be accompanied by Hubert Heldner jeweller and / or Céline Barman jeweller.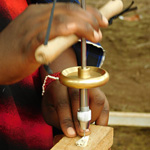 Explore the area with a picnic lunch at Lake Natron. Return to Arusha and visit of a gem dealer, the Maasai market, the Tanzanite Experience and the Cultural Heritage Center. Fol-lowed by the transfer to Dar-es-Salaam or departure from Arusha.

Total 17 days
US$ 3'100.- Price per person in a double room.
US$ 3'400.- Price per person in a single room.
The flight to Tanzania is not included.