Ruby-Zoisite jewelry class
in collaboration with massai ladies
At the mines in Mundarara - Longido.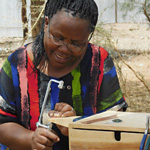 Mounting of ruby-zoisite
in different goldsmithing techniques. A jewelry course in teamwork with Maasai ladies in the ruby-zoisite mine of Mundarara Tanzania. Tools and materials are provided on site. The gems are offered by the mine owner. Your creativity is in demand and welcome. This unique collabo-ration explores the unknown. Jewellers, designers, gold-silver smiths, gem cutters, artists, explorers. . . . etc. are cordially welcome. The jewelry you create is yours to keep.
You will be accompanied by Hubert Heldner jeweller and / or Céline Barman jeweller.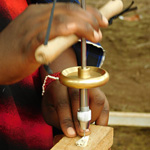 The journey starts in Arusha
and takes you to Mundarara. Jewels are made durig 3 days without welding equipment. With simple tools, but with sophisticated techniques. Explore the area with a picnic lunch at Lake Natron. Return to Arusha and visit of a gem dealer, the Maasai market, the Tanzanite Experience and the Cultural Heritage Center. Departure from Arusha.

Total 8 days + 8 nights
US$ 1'705.- Price per person in a double room.
US$ 1'870.- Price per person in a single room.
The flight to Arusha is not included.
Dates
July 13th - 21st 2023
January 18th - 26th 2024
July 11th - 19th 2024
Please make your reservation here

For further information please contact:
Miss Noreen Masaki or
Lapidary Training Centre
P. O. Box 19668
Dar es Salaam
Tanzania
+255 787 721 761
www.noreen.ch



Mr. Hubert Heldner
Free Form Artists
Avenue des Alpes 70
CH-1820 Montreux
Switzerland
+41 21 963 89 77
www.free-form.ch
We provide:
Privileged access to the mines.
The stones you find are yours to keep. We negotiate and cover the necessary mining fees.
Guides with a solid mineralogical and gemological background.
Transportation within Tanzania including airport transfer, Hotel and breakfast during the entire Safari.
A team of cooks will take care of our lunch at the mines,
and we have 5 self-contained double rooms at our disposal.
We organize the necessary paperwork for export of all cut and rough gems.
A restriction is in place for 8 rough minerals in facet quality larger than 2 grams. They are : Tanzanite, Diamond, Spinel, Tsavorite, Chrysoberyl-Alexandrite, Ruby, Sapphire and Emerald.
A professional gem cutting service. Samples to appreciate our cut quality are here.
And last but not least, expect to travel on rough roads and some nights with only basic facilities.
---
You organize yourself:
Sunscreen and sunhat (average temperatures 24-29°C / 75-84 F).
One long sleeve shirt and mosquito repellent.
Malaria prophylaxis is strongly recommended, see vaccination. Centers for Disease Control and Prevention - CDC
Not included in the package price are 4 lunches and the dinners.
You make your flight arrangements to Arusha.
Export taxes for cut gemstones 3%, for minerals and rough stones 7%,
plus a commission for preparation of the necessary papers, are not included. You pay the additional cost during the trip yourself.
---

Under the shade

of a tree, we

had a lot of fun

creating jewelry.

Drilling

Ruby-zoisite

some pendents

Miners inspecting
the jewels.

Pendant with silver wire

Exploration

Creation

Discoveries

Hard and dangerous

work underground.

The miners

on the job.

This is what

they look for,

ruby-zoisite

Mount Longido.








Yoin us for a joyful exploration of creative possibilities. Aquire new technical skills. Share your know-how, with one of the indigenous peoples of Tanzania. You will wear not only a lasting value, but also extraordinary memories.
The experienced team is welcoming you to a unique and exciting "educational adventure".