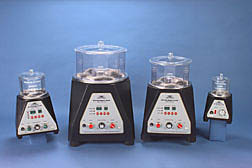 Magnetic Finishing presents itself as the pinnacle of methods to efficiently burnish and polish small non-ferrous metals. With media as small as 0.3mm in diameter and 5mm in length, these stainless steel pins are able to work in areas such as undercuts, recesses, slots, etc, where no previous method has been found suitable. Centrifugal Magnetic Finishing is quiet by comparison to many other forms of finishing. Typically on soft non-ferrous metals, the finishing cycle can be as low as 30 minutes. This alone assures faster turnaround time on parts when compared to any other method. Centrifugal magnetic tumbling as an automated process addresses the most intricate and detailed parts imaginable in finishes where others fail. It should be noted that on large, smooth or flat surfaces the finish will appear frosted and a slight buffing or a run in a dry finisher is recommended.

These machines are a direct drive, fan cooled design. The magnetic disk is made up of many powerful magnets that are precisely placed in a cast disk. The alternating polarity is constantly changing, thereby allowing the media to move freely in a liquid solution that constantly changes its makeup. This, combined with centrifugal force, allows for super quiet and fast time cycles.

Note: when the finish on large smooth or flat working peaces appears frosted, a slight buffing or a run trough a dry finisher is recommended.